Who we are?
Our IT experts develop software for the financial sector. This includes Android and iOS mobile apps, crypto-exchanges, electronic wallets, service systems, and much more.
We work on the holding's projects and also outsource to other companies in 20 business areas.
About us
Creative and unique people are the lifeblood of our company
We welcome those who are interested in IT and want to change the world and help society. It doesn't matter if our employees work from the office or remotely. What's important is that we all set our own goals and achieve them no matter what!
We destroy stereotypes and support new trends
Women make up 43% of our workforce, and our employees range from 18 years old to infinity; we employ couples and families, and we respect the cultural values of all peoples and ethnicities.
We do not operate as a hierarchy
We don't have any bosses or subordinates. We are all like-minded and open for constructive dialogue. We listen and heed all team members who are committed to improving our company's products or processes.
Career advancement regardless of age
We believe that you can reach the peak of your career at any age — whether you are 20, 30, or 50. Our company strives to develop our employees, motivate them, and make them leaders in their field, no matter their age.
We develop startups and help good ideas come to life
Our employees think outside the box, so creating startups is just an everyday process for us. We support anyone who has a project. We help them assemble a team and provide all the resources to help their ideas become reality.
Our expert teams can teach you many things
Our teams consist of motivated, talented, and proactive people who know how to inspire and motivate their colleagues. We nurture experts who are ready to learn and pass on their knowledge to others.
Our culture is based on openness and mutual assistance
People are our company's greatest value. This means that we are always keen to help our employees develop, train, and achieve. We value honest, open communication with all team members, regardless of their status or position.
Kesmaty takes care of its employees
We shoulder the costs of sports and educational programs for our employees, provide medical insurance, and regularly organize team building events, holidays, corporate events, conferences, and other unique activities.
We support our employees' hobbies
Do you love reading and want to share your experiences with your colleagues? Welcome to our book club! If you like doing marathons or challenges, join us on social media to find someone as dynamic as you.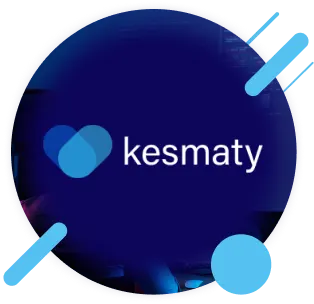 Do you want to be a part of innovation and create useful IT products?
Welcome to Kesmaty!